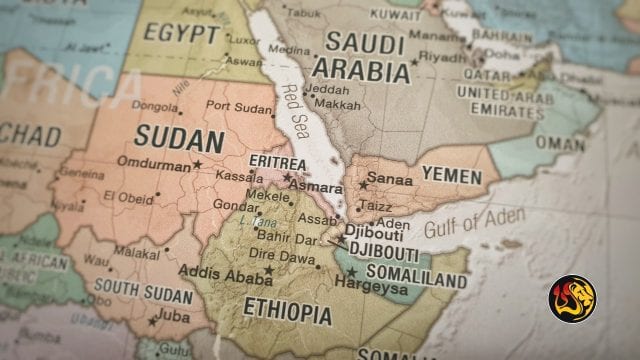 By BosNewsLife Africa Service with additional reporting by Stefan J. Bos, Chief International Correspondent BosNewsLife
ASMARA/LONDON (BosNewsLife)– Leading rights groups and church officials planned to hold Thursday, May 28, their annual protest and prayer vigil against the reported massive persecution of Christians in Eritrea for the first time online, amid ongoing coronavirus lockdown restrictions in Britain.
The protest usually takes place outside the Eritrean embassy in London. "We may be on lockdown, but we will not be silenced," said organizer Mervyn Thomas, chief executive of advocacy group Christian Solidarity Worldwide (CSW).
Thursday's internet demonstration will also include a one-hour online prayer service, organizers stressed. The initiative comes amid reports that tens of thousands of Eritreans, including many Christians, are detained without charge or trial in what activists view as life-threatening conditions in more than 300 sites across the country.
BosNewsLife established in recent years that those sites include container camps. "Hundreds of Christians who are members of unregistered churches are in prison; some have been held captive for over a decade. Many are forced to work long hours in commercial flower fields. Some are held in shipping containers in scorching temperatures," said advocacy and aid group Open Doors.
The United Nations Special Rapporteur on human rights in Eritrea, Daniela Kravetz, noted recently that "in 2019 alone, more than 200 individuals were imprisoned because of their faith." Under autocratic President Isaias Afewerki, Christians who aren't members of state-approved churches are considered agents of the West and a threat to the state, activists say.
EVANGELICAL LEADERS 
Among those held are also Reverend Haile Naizge, chairman of the Full Gospel Church, and Kuflu Gebremeskel, chairman of the Eritrean Evangelical Alliance and member of the executive committee of the Full Gospel Church of Eritrea. On May 23, "they marked their 16th year in incommunicado detention," CSW explained.
One of Eritrea's high-profile prisoners of conscience is the legitimate Eritrean Orthodox patriarch Abune Antonios, 92, who has been under house arrest since January 2007, activists say.
He was removed from office in 2006, despite canon law, after repeatedly objecting to what he saw as government interference in ecclesiastical affairs. The patriarch also reportedly refused to expel 3000 members of the Orthodox renewal movement, Medhane Alem.
His removal cemented the government's control of the Eritrean Orthodox Church and created tensions in the Church, according to Christians familiar with the case. In 2019 a letter dated July 17, ostensibly from six bishops but signed only by five of them, accused Patriarch Antonios of having committed heresy.
He was stripped of all official authority in an attempt to excommunicate him. The plight of these prisoners and others was to be raised during Thursday's protest by speakers from organizing groups CSW, Church in Chains (Ireland), Human Rights Concern-Eritrea, Release Eritrea and the Eritrean Orthodox Church in Britain. Special guests include David Alton, a rights campaigner and member of the British House of Lords, and Eritrean Gospel artist Helen Berhane.
BANNING GROUPS
Their London protests began after March 2002 when Eritrea's government banned practices not affiliated with the Catholic, Evangelical Lutheran, or Orthodox Christian denominations and Sunni Islam.
Christians claim authorities launched a campaign of arrests targeting unapproved denominations and groups in the Eastern African nation of 6-million people. Additionally, Christian converts from a Muslim background or an Orthodox background reportedly face harsh mistreatment from their families and communities.
In some cases, the ongoing policies also impact traditional churches. "For the 17th year in a row, we will be protesting the severe repression of freedom of religion or belief in Eritrea," explained Thomas in a statement to BosNewsLife. He noted that the UN Commission of Inquiry on Eritrea "deemed it a crime against humanity."
Young Christians are also forced to join the armed forces, with no opportunity for conscientious objection, Christians say. Thomas condemned the ongoing detention of Christians "without due process for peacefully practicing their faith."
He added: "We will continue calling on the Eritrean authorities to release all prisoners of conscience, including those detained on account of their religious beliefs. And [we] will stand in solidarity with the Eritrean people until every prison door is opened and all who have been detained unjustly are set free."
Eritrea's government has denied human rights abuses.