By Stefan J. Bos, Chief International Correspondent BosNewsLife reporting from Budapest, Hungary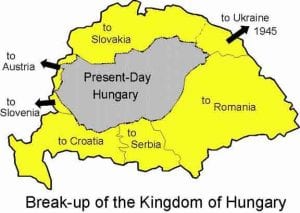 BUDAPEST, HUNGARY (BosNewsLife)– Hungarians have commemorated the 100th anniversary of the treaty that forced them to give up two-thirds of their nation's territory with a grim warning by Prime Minister Viktor Orbán. After World War One, "The West violated the borders and history of Central Europe and turned our country into a death row," he said. "Hungary will never forget this."
Orbán spoke over the weekend at the inauguration ceremony of a new memorial in the northern border town of Sátoraljaújhely, one of several memorials erected in this Catholic nation. Earlier in the week, Church bells rang in Budapest, the capital, following a minute of silence when public transport stopped in memory of the Treaty of Trianon. It marked the moment that two middle-ranking Hungarian officials were forced to sign the document on June 4, 1920, in the Grand Trianon Palace in Versailles, France.
Some 3.3 million ethnic Hungarians suddenly lived in neighboring nations, an open wound that has not yet healed today. Speaking at a memorial session in Parliament, Hungary's president referred to the national trauma.
János Áder spoke of Hungarians' "right" to keep unaltered their "spiritual borders," despite the changes on the real map. He stressed the need to "rectify" the damage from the treaty.
Áder recalled that the Austro-Hungarian empire fell apart at the end of World War One. Hungary was forced to give up territories to what is now known as Croatia, Serbia, Slovakia, Slovenia, Ukraine as well as Romania, and even Austria, the fellow loser in the war. Ader stressed, however, the need for mutual respect between Hungary and neighboring countries.
Those comments came amid diplomatic tensions with neighboring Romania over Budapest's support for autonomy seeking ethnic Hungarians in the Szeklerland area of Transylvania.
TABOO ISSUE
However, Slovakia's prime minister Igor Matovic apologized for what he called the injustices
some half a million ethnic Hungarians endured in his nation. "Hello, my dear friends, for whom the peaceful Hungarian-Slovakian cohabitation in Slovakia is important. I want to apologize frankly for the injustices you had to live through during your life. Only because you did not want to give up your mother tongue," he wrote on his Facebook website.
Speaking about ethnic Hungarians in neighboring nations was a taboo issue during the roughly four decades of Hungary's communist regime that ended in 1990.
The issue regained attention, especially since 2010 when right-wing Prime Minister Orbán prioritized support and advocacy for the more than 2 million ethnic Hungarians in neighboring countries.
Under his rule, some 1.1 million ethnic Hungarians, mostly living in neighboring nations, received Hungarian citizenship since 2011, including the right to vote in Hungary's national elections.
But several opposition legislators have expressed concern about Orbán's perceived nationalist rhetoric that they say has created strife in society. Some boycotted Thursday's Parliamentary session.
HISTORY VIEWS
Yet, many Hungarians appear to agree with Orbán's views on history. A poll released ahead of the 100th anniversary day claimed some 94 percent of Hungarians believe the Trianon peace treaty was "unjust and excessive."
The Hungarian Academy of Sciences conducted the survey.
There were no signs the Treaty of Trianon would soon be forgotten as a new memorial was constructed facing the parliament building. It consists of a 100-meter-long ramp, signifying the 100 years that have gone by since the Treaty of Trianon, that slopes downward.
The walls of the ramp were made of black granite, on which almost 13,000 place names of historical Hungary were engraved. At the end of this four-meter-wide construction stands a large broken granite block.
Accompanied by an eternal flame.