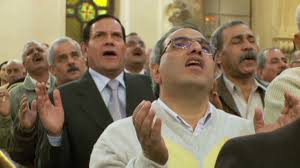 By Stefan J. Bos, Chief International Correspondent BosNewsLife
CAIRO, EGYPT (BosNewsLife) – Egyptian authorities have charged a Muslim man with the murder of 30-year-old Egyptian Christian Kyrillos Megally, who died in hospital on June 7, three days after being attacked.
Abdullah Hosni confessed to the killing in the village of Arab Mahdy in Sohag Governorate in the Upper Egypt region, prosecutors said.
He allegedly pushed Kyrillos from a motorcycle before striking him repeatedly with a cleaver, inflicting fatal injuries, according to Christians familiar with the situation.
In comments shared with Worthy News, the victim's family claimed that "Abdullah is an extremist who has a history of harassing and assaulting Christians." Christians said he was "drenched in blood and with multiple stab wounds" when rushed to the hospital and eventually died.
Besides confessing to killing Kyrillos, the suspect, who is in police custody, admitted to disposing of the cleaver down a drain, according to prosecutors. His family claims he is mentally unbalanced.
The victim's brother Medhat told local media that two years ago, "Abdullah attacked two Christians – a brother and cousin of Kyrillos Megally" – and was sentenced to one year in prison. "After that, he went to work in Libya and came back two days before he attacked my brother," added Medhat.
CRIMINAL RECORD
A statement issued by the Ministry of Interior reportedly confirmed the accused had a criminal record. The suspect could not be reached for comment.
Kyrillos Megally, who belonged to the Coptic Christian community, worked in Kuwait and had returned to his home village of Arab Mahdy for a holiday. His funeral was held on June 8.
The murder follows previous violence against Christians, a minority in Muslim-majority Egypt. Christians said attacks included the recent murder of another young Copt by a Muslim man who later said he was moved to the act due to his "loyalty to Allah."
Additionally, priest Arsenius Wadid was stabbed to death in broad daylight by another knife-wielding Muslim in April, church sources said.
Christians fear more attacks, including in Upper Egypt, where ultra-conservative Islamic Salafist movements are active in rural communities.
However, the government claims to fight extremism and has recognized several churches recently.
Some 16 million Egyptian Christians are living among the country's mainly Muslim population of 104 million people, according to researchers.