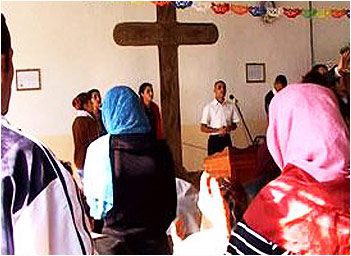 By Stefan J. Bos, Chief International Correspondent with BosNewsLife Africa Service
ALGIERS, ALGERIA (BosNewsLife)– Christians in Algeria have appealed for prayers after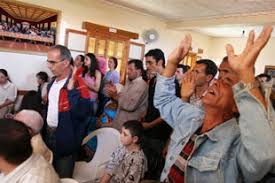 authorities closed churches and ordered several individuals to appear in court because of their involvement in "unauthorized worship," activists told BosNewsLife.
The apparent government-backed crackdown is among a series of reported incidents against the tiny devoted Christian minority in this Islamic African nation.
Among several anti-Christian measures are court cases including on May 16 against the owner of land used by a large Protestant church congregation, confirmed advocacy group Middle East Concern (MEC) which closely monitors the situation.
"He has been charged with allowing "unauthorized worship" on his land violating a 2006 Ordinance that regulates non-Muslim worship," MEC said.
The 400-strong congregation, known as "Ville de Refuge," is based in Azaghar, about 180 kilometers (110 miles) south-east of the capital Algiers, MEC said. Since police sealed the church building in October last year, the congregation has met in a tent erected on the property, explained MEC in a statement to BosNewsLife.
DISMANTLING TENT?
Authorities ordered the tent owner to dismantle it, but Christians continued to worship in that location, MEC added.
The congregation in Azaghar was forced to meet in the tend as a "committee" in December 2017 found "safety code violations" in its church building, the advocacy group recalled. However, Ville de Refuge reportedly claims that it has since rectified all the alleged violations.
The church is a member of the Église Protestante d'Algérie (EPA) denomination which has faced difficulties with authorities in recent years. "Since November 2017 most EPA-affiliated churches were visited by so-called "building-safety committees," which also ask for permits required for non-Muslim worship" under controversial legislation, explained MEC. "However, the government has yet to issue any license for a church building under this regulation."
Several other churches have since received written orders to cease all activities, according
to activists and reports seen by BosNewsLife. Additionally, "a number were closed by authorities because they do not have a license, most recently in July 2018." Three of those closed churches have since been allowed to re-open.
In a separate incident, the leader of the Church in Makouda, in the province of Tizi Ouzou, was verbally informed he would face charges for violations of the building plans. This church is the second-largest Protestant congregation in Algeria. The pastor has submitted documentation showing the building is suitable for public meetings.
CLOSING CHURCH
Earlier in November 2018, a court ordered the church of Aït Djemaa, 35 kilometers (22 miles) south of Tizi Ouzou to close, trial observers said. The court judgment reportedly stated that an affiliation with EPA "cannot replace permission by a building safety committee".
In remarks published by MEC, Algerian Christians urged believers to pray that "church leaders would know the Lord's peace, wisdom, and guidance in the face
of continued pressures" and that "both the churches in Azaghar and Makouoda will be permitted to continue to worship and all churches ordered to close
would soon be permitted to re-open."
Christians also appeal for prayers to ensure that "authorities will end their systematic campaign against Christians and other non-Muslim communities" and that "those responsible for the closure orders will know the conviction of the Holy Spirit and the forgiveness and new life offered by Jesus Christ."
Activists have linked the crackdown to concerns within the government about church growth among Muslims. Officially, Christian comprise just 125,000 believers in this nation of some 42-million people, but church groups suggest that number is growing.
Christian converts have become more open about their faith, leading to a backlash by Muslim family members and others in what critics view as an increasingly intolerant society, activists say.
CONVERTS TARGETED
Last year two converts made headlines, one of them sentenced for "illegally" carrying a Bible and other Christian items to a six-month prison term and a fine. In July 2018, he was found not guilty, Christians said.
Earlier in April 2018, a Christian convert was released after 18 months in prison. He had been sentenced to five years imprisonment along with a fine for posting statements on his Facebook page deemed insulting to Islam, according to Christians familiar with the case. His sentence cut short after a presidential pardon.
Analysts fear the anti-Christian crackdown will continue in part because of Algeria's controversial blasphemy laws against Islam. The legislation makes it difficult for Christians to share their faith out of fear their conversation may be considered blasphemous and used against them," said Open Doors.
In Algeria, it is forbidden by law to "shake the faith" of a Muslim or to use "means of seduction" to convert a Muslim to another religion.
"Christians also suffer from harassment and discrimination in their daily life. Family members and neighbors try to force converts to adhere to Islamic norms and follow Islamic rites," Open Doors explained.
Christians say they face especially pressure in the rural and religiously more conservative parts of the North African country. These areas were a stronghold for Islamist insurgents in their battle against the government in the 1990s. Algeria's long-time President Abdelaziz Bouteflika took power in 1999. He was elected for his fourth term of office in 2014 despite rarely appearing in public following a stroke in 2013.